Others
Secretary-General Amb. OU Boqian had an Online Meeting with Mr. QIN Zi, Initiator of Crested Ibis International Forum
2022.05.13
On 13 May 2022, TCS Secretary-General Amb. OU Boqian had an online meeting with Mr. QIN Zi, initiator of Crested Ibis International Forum and editor-in-chief of the News Portal Sina Shannxi. The two sides had in-depth discussion on the status quo and future development of the Trilateral Cooperation.
Mr. QIN Zi first of all thanked the TCS for rendering full support to the trilateral exchanges among the civil societies of China, Japan and the Republic of Korea, underscoring that the bottom-up approach forms an important driver to the Trilateral Cooperation and the trilateral relations among the three neighboring countries. Recalling his early days in overcoming difficulties to bring the Crested Ibis International Forum from scratch to real, he emphasized that the Crested Ibis is a real symbol of friendship and unity of the three countries. He extended his hope to co-host with the TCS the 3rd Forum in Sado, Japan when the travel restrictions are lifted. He expressed his concern over the descending mutual perceptions among the people of the three countries in recent years, attributing such to the lack of understandings among the youth as well as a shortage of effective communications among media outlets. To that end, he spoke highly of TCS' endeavors on the exchange programs for the younger generations and he journalists, and reaffirmed his commitment to further working with the TCS in promoting "Lasting Peace, Common Prosperity and Shared Culture."
Secretary-General OU highly appreciated Mr. QIN Zi for his long-time devotion to the Trilateral Cooperation. Highlighting the true and concerted efforts made by China, Japan and the Republic of Korea to rescue the once endangered Crested Ibis, she said it would be very meaningful to carry out more cultural exchange activities themed the Crested Ibis and relevant icons, which would create resonance and spur people's affinity. Regarding mutual perception improvement as one of the core tasks of the TCS nowadays, she briefed on TCS' efforts to bring the younger generations of the three countries together by carrying out numerous exchange programs, including the Trilateral Youth Speech Contest, Young Ambassador Program, Trilateral Youth Summit. She introduced the ongoing project to form up a Trilateral Youth Exchange Network, an integrated platform that incorporates all TCS' youth projects and provides opportunities to deepen the mutual understandings among youth. She also mentioned on the role and responsibility of the media in that regard, adding that the TCS is upgrading its journalist exchange program featured with solution-oriented workshop. She extended her expectation to work together to solidify the foundation of Shared Culture in the region.
Both sides also explored opportunities of cooperation via new media approaches.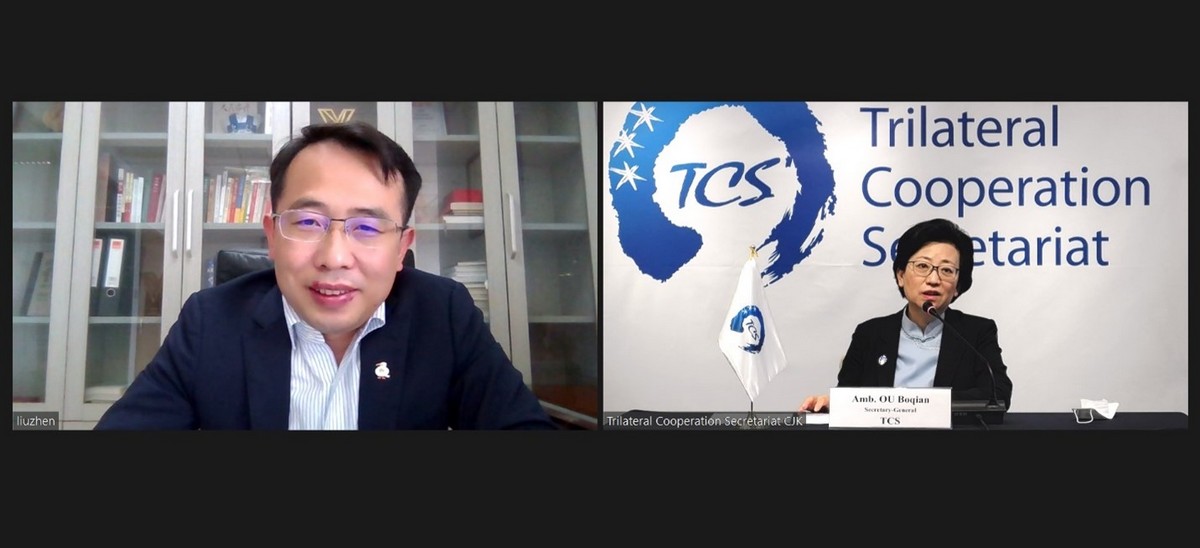 ▲Secretary-General OU Boqian (right) exchanging views with Mr. QIN Zi, the Initiator of Crested Ibis International Forum