Seminar & Forum
Secretary-General OU Boqian Attended the 8th CJK Cooperation Dialogue
2022.01.17
On January 17, 2022, the 8th CJK Cooperation Dialogue was held online among the China (Hainan) Institute of Reform and Development (CIRD), Japan Economic Foundation (JEF), and East Asia Foundation (EAF) of ROK. TCS Secretary-General OU Boqian attended the opening session and delivered remarks.
SG OU stated in her remarks that Trilateral Cooperation has stayed steady despite the ongoing pandemic. Several minister-level and senior officials' mechanism meetings have been held to ensure the cooperation momentum. Looking into the post-pandemic era, she suggested that the three countries should strengthen collaboration in the following areas: try to establish a long-term mechanism to jointly prevent and respond to global pandemic, including joint research and development of vaccines; strengthen regional supply chain in the framework of RCEP; cooperate more closely in digital economy, green economy, and ageing society; continue to promote people-to-people exchange especially among the young generation.
SG OU stated that TCS has officially entered the tenth year of establishment since September 2021 and will spare no effort in executing its missions. TCS will continue to support trilateral mechanism meetings and contribute to institutionalization of Trilateral Cooperation, collaborate with subject matter experts to provide policy advice on trilateral and regional cooperation, and encourage people-to-people exchange especially youth exchange. TCS is willing to work closely with the CIRD, JEF, and EAF to promote intellectual exchange among prominent policy makers and scholars of the three countries.
The CJK Cooperation Dialogue has been held cyclically by CIRD, JEF, and EAF each year on a rotation basis since 2014.
The 8th CJK Cooperation Dialogue was themed in "CJK Cooperation in the Post-Pandemic Era" and included three sessions: "Collective action of promoting the implementation of RCEP among CJK", "Joint efforts on building secure, stable and green supply chain by CJK", and "Policies and institutions for coping with population aging and low fertility in CJK".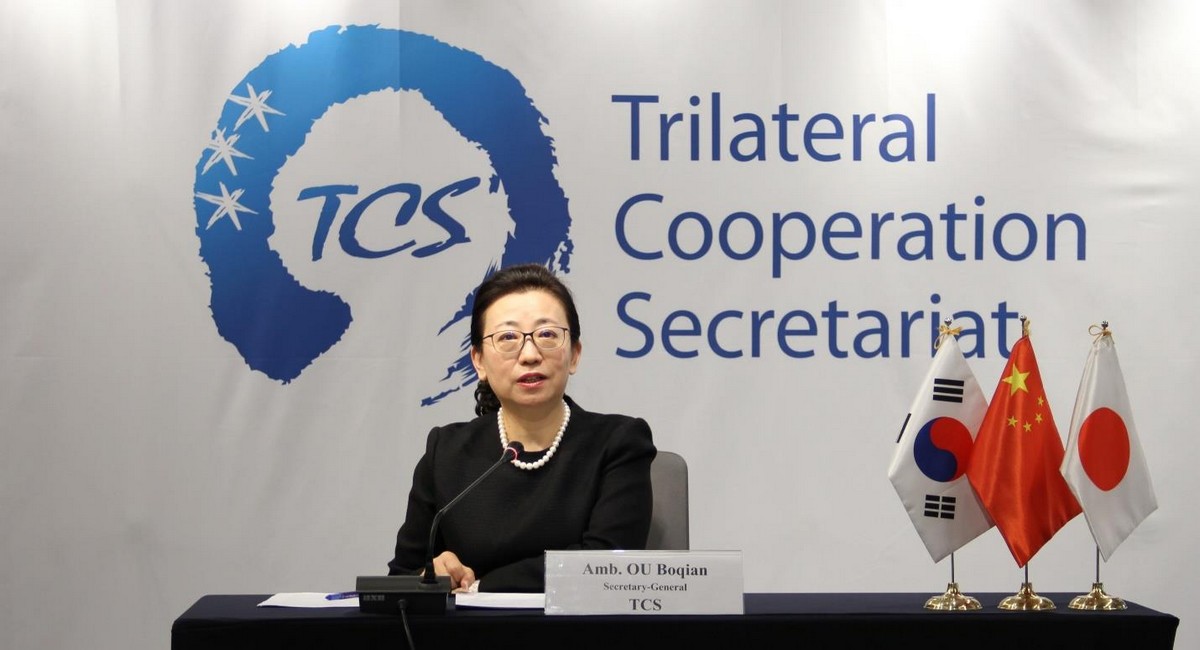 ▲SG OU Boqian Delivering Opening Remarks