| [TC Activity] TCS Delegation's Outreach Visit to the ASEAN – Mar 04, 2019 | 2019.03.04 |
| --- | --- |
Content
​The TCS board members, Secretary-General LEE Jong-heon, Deputy Secretary-General YAMAMOTO Yasushi, Deputy Secretary-General HAN Mei, paid visits to some key ASEAN partners in Jakarta, Indonesia on 4 March 2019.
The TCS delegation made a courtesy call on the Thai Permanent Representative to ASEAN H.E. Ambassador PHASPORN Sangasubana, and asked for support from Thailand, the ASEAN Chair for 2019, in regard to the TCS's involvement in the ASEAN Plus Three (APT) mechanisms. Acknowledging that positive development of trilateral cooperation provides a strong impetus for APT cooperation, Ambassador Phasporn reaffirmed the importance of the TCS Secretary-General's presence in the APT Summit and encouraged the TCS and the ASEAN Secretariat to further engage with each other. The two sides also exchanged views on the current level of community building in Northeast and Southeast Asia respectively and the future direction for regional cooperation in East Asia.
The TCS delegation also visited the Economic Research Institute for ASEAN and East Asia (ERIA), and Mr. KOBAYASHI Izuru, Chief Operating Officer and Director General of Administration and Personnel Department, provided an overview of the ERIA including its history, function, and key research areas. Recognizing each other as potential partners in promoting APT cooperation, the TCS and the ERIA agreed to explore possible cooperation in the area of regional economic integration in East Asia.
Furthermore, DSG Yamamoto had a consultation meeting at the ASEAN Secretariat with Ambassador Hoang Anh TUAN, the Deputy Secretary-General of ASEAN for Political-Security Community. In accordance to the APT Leaders' call for cooperation between the two Secretariats in further promoting APT cooperation, the DSGs discussed some practical measures to strengthen partnership such as expanding mutual exchanges and dialogues.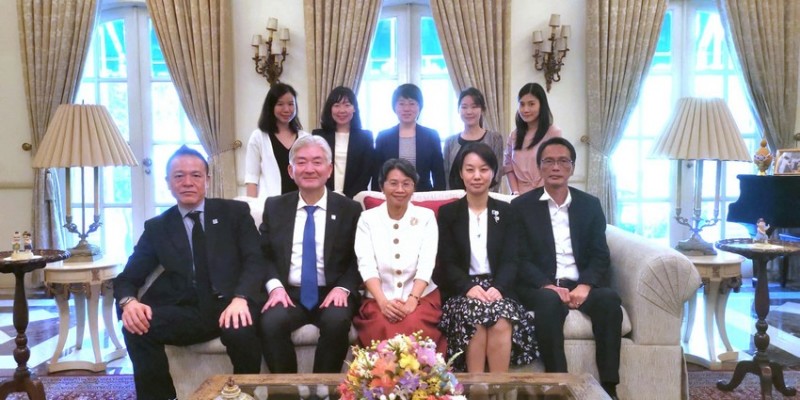 ▲Courtesy Visit to the Thai Permanent Representative to Ambassador PHASPORN Sangasubana (at the center in the front row)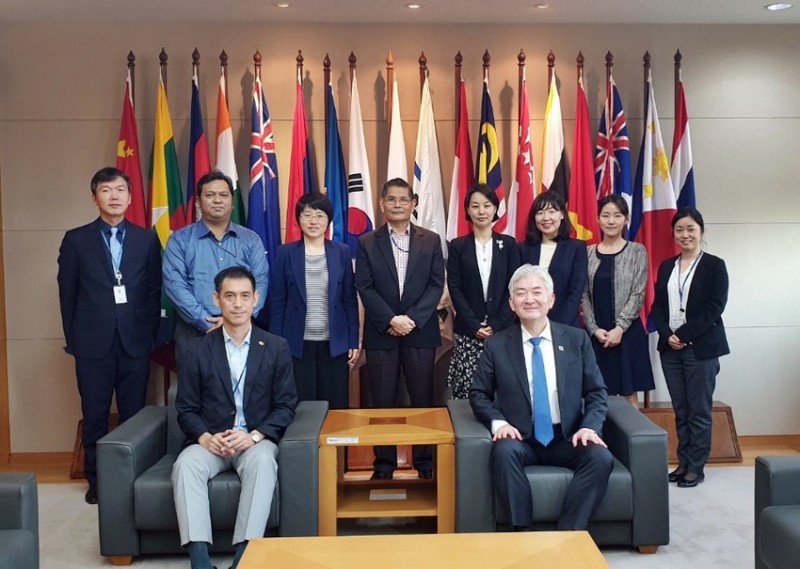 ▲Visit to the Economic Research Institute f or ASEAN and East Asia (ERIA): (in the front row) Mr. KOBAYASHI Izuru, Chief Operating Officer and SG LEE Jong-heon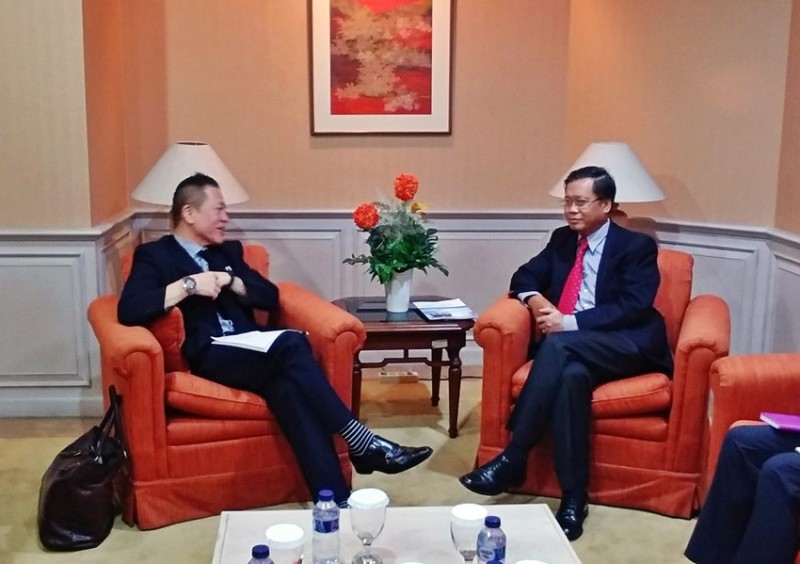 ▲Meeting between TCS DSG YAMAMOTO Yasushi (left) and ASEAN DSG Hoang Anh TUAN